Experiment No.: 2
Experiment Name :
Determine the latching current using V-I characteristics of SCR.
Objective:
To determine the latching current using V-I characteristics of SCR
Theory:
The SCR is a power semiconductor device which is used in power electronic circuits. They work like a bistable switch and it operates from nonconducting to conducting. The designing of SCR can be done with 3-PN junctions and 4 layers. It includes three terminals e.g. anode, gate, and cathode.

Latching Current of SCR: The latching current is the smallest amount of anode current is required for preserving the thyristor in the ON condition instantly once a thyristor is turned ON then the gate signal has been detached.
This current is connected with the process of turning ON. The worth of this current is around two to three times to that of holding current. The worth of holding current as well as latching current is stable. So it does not be dependent on the magnitude of gate current.
The minimum current is the Latching current of SCR in forwarding bias which anode current has to achieve to maintain to stay in the mode of forwarding conduction even as gate current is detached. If the anode current value is under this value, then the SCR will not maintain to perform in the direction of forward if the gate current is detached. However when anode current turns into greater than latching current, then the gate terminal loses its power & it may be detached. Finally, the SCR will go on to conduct.
V-I Characteristics of SCR: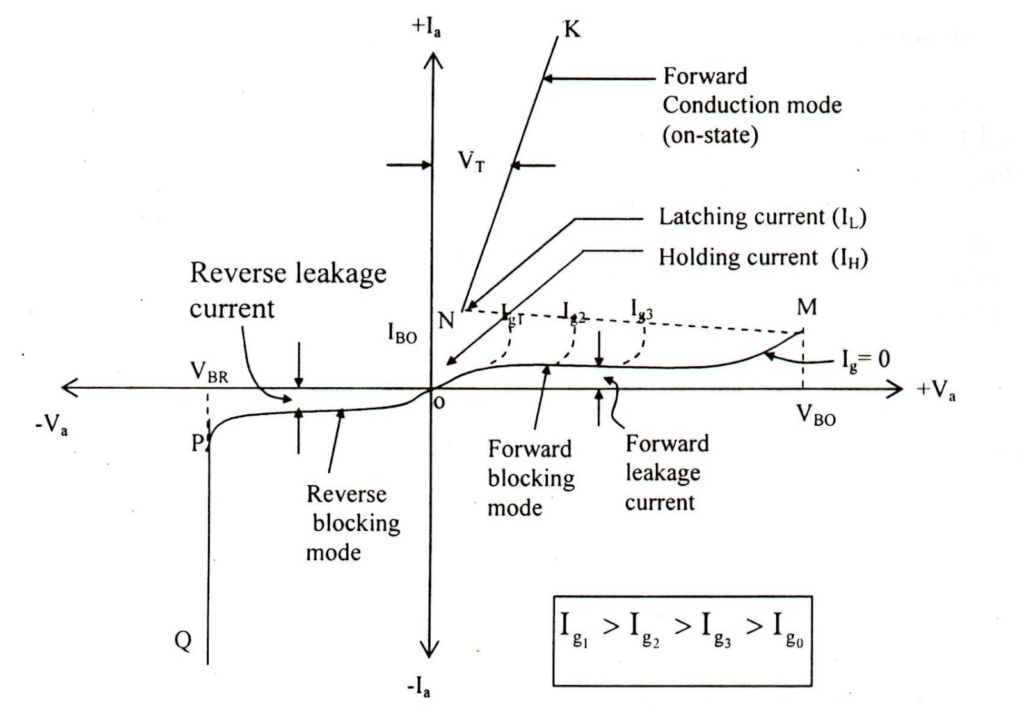 Circuit Diagram:
Observation Table:
SCR in Forward Bias:
| | | | |
| --- | --- | --- | --- |
| Sl. No. | Gate Current (IG) (mA) | Anode Cathode Voltage (VAK) (Volt) | Anode Current (mA) |
| 1. | | | |
| 2. | | | |
| 3. | | | |
| 4. | | | |
| 5. | | | |
| 6. | | | |
| 7. | | | |
| 8. | | | |
| 9. | | | |
| 10. | | | |
| 11. | | | |
| 12. | | | |
| 13. | | | |
| 14. | | | |
| 15. | | | |
| 16. | | | |
| 17. | | | |
| 18. | | | |
SCR in Reverse Bias:
| | | |
| --- | --- | --- |
| Sl. No. | Anode Cathode Voltage (VAK) (Volt) | Anode Current (μA) |
| 1. | -0.2 | -2.9 |
| 2. | -0.5 | -5.4 |
| 3. | -0.8 | -8.9 |
| 4. | -1.0 | -11.0 |
| 5. | -1.5 | -16.5 |
| 6. | -2.1 | -22.2 |
| 7. | -2.5 | -26.1 |
| 8. | -3.0 | -30.6 |
| 9. | -3.5 | -36.0 |
| 10. | -4.0 | -41.4 |
| 11. | -4.6 | -47.5 |
| 12. | -5.2 | -53.8 |
| 13. | -5.6 | -58.3 |
| 14. | -6.3 | -64.9 |
| 15. | -6.7 | -69.7 |
| 16. | -7.6 | -78.8 |
| 17. | -8.5 | -87.6 |
| 18. | -9.7 | -99.5 |
| 19. | -9.8 | -100.9 |
| 20. | -10.9 | -111.9 |
| 21. | -12.3 | -126.5 |
| 22. | -13.0 | -133.6 |
| 23. | -13.7 | -140.0 |
| 24. | -14.5 | -148.3 |
| 25. | -15.7 | -160.5 |
| 26. | -16.8 | -172.6 |
| 27. | -17.7 | -181.0 |
| 28. | -18.2 | -185.8 |
| 29. | -19.1 | -195.9 |
| 30. | -20.5 | -201.01 |
| 31. | -27.6 | -305.6 |
Graph:
Apparatus Used:
Sl. No.
Name of the Apparatus
Specification
Quantity
Maker's Name
1.
Thyristor characteristics trainer kit
Regulated Power Supply : 0-30 V DC
SCR IC : BT151
Input : 230 V
 1
 Sushama Electronics
2.
Patch Cord
as required
Remarks: